Wu-Tang Clan : Why An American Saga is the perfect RZA-created drama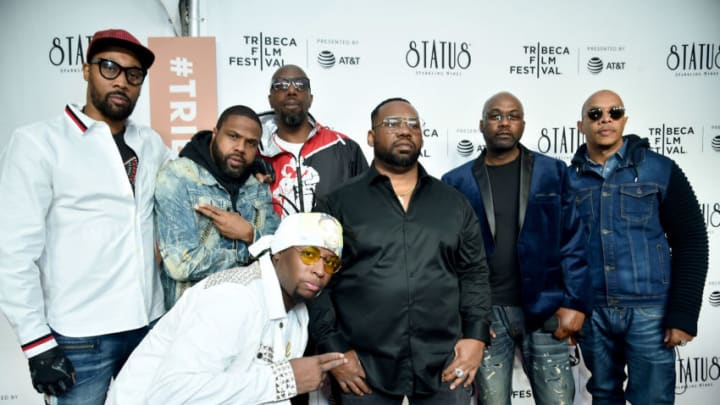 NEW YORK, NEW YORK - APRIL 25: (Rear L-R) Elgin Turer " Masta Killa", Dennis Coles "Ghostaface Killa" Robert Diggs "RZA" Inspectah Deck, Corey Woods " Raekwon", (front L-R) Lamont Hawkins" U-God", Young Dirty Bastard, and DJ Mathematics attend Tribeca TV: Wu-Tang Clan: Of Mics And Men - 2019 Tribeca Film Festival at Beacon Theatre on April 25, 2019 in New York City. (Photo by Steven Ferdman/Getty Images for Tribeca Film Festival) /
Wu-Tang: An American Saga is a Hulu-scripted tale of how the Wu-Tang Clan was composed and their lives before and through the success.
Wu-Tang: An American Saga most recent episode explores a young RZA who found his sudden success equally a curse and a blessing as he is able to travel with his cousins and make music, but struggles to align his career with his principles. Prince Rakeem – RZA's previous stage name – suits up for a video shoot for his single, "Ooh, We love you Rakeem" where his "past" collides with his future and familiar faces threaten to kill the progress. The episode centers on RZA seemingly just before the Wu-Tang Clan was born.
NEW YORK, NY – APRIL 25: Robert Diggs "RZA" attends Tribeca TV: Wu-Tang Clan: Of Mics And Men at the 2019 Tribeca Film Festival at Beacon Theatre on April 25, 2019 in New York City. (Photo by Steven Ferdman/Getty Images for Tribeca Film Festival) /
Although rooted in truth, Wu-Tang: An American Saga adequately addresses the peaks and valleys of a young entertainer, or even broader, a young black man chasing something different than he is used to.
Cast as the developing RZA, Ashton Sanders masterfully delivers an eclectic, positive and ambitious performance as a rapper trying to make a name for himself and keep his boys from putting a bullet in each other's heads.
By the end of the episode, RZA is dropped by his label after a cluster of errors left him with misprinted t-shirts and a record-signing with no records. It was a nauseating fall right at the moment that he began to sink into a rhythm with his homies, recording something original to them.
The series has introduced a lot of its audience to up-and-comers like Siddiq Saunderson (Dennis Coles), Julian Elijah Martinez (Divine), Johnell Young (Genius) and TJ Atoms as a young Ol' Dirty Bastard. The series, which streams on Hulu every Wednesday, is more than just a quick fix of some classic hip-hop tracks and a quick back story on the men who create the Wu-Tang Clan.
The RZA and Alex Tse-created drama explores the men along with the people and experiences in their lives that shaped their relationships with each other and their success as a group. Fans on Twitter were even shocked when the show revealed Ghostface Killah and Raekwon's beef that was volatile enough to turn lethal before the Wu-Tang Clan originally collected.
The revelation adds another layer to the gripping legend of a group that changed the perspective on loyalty and grind. Its nine original members were a staggering exception to the rule and took their Staten Island product mainstream.
Wu-Tang: An American Saga is an original story of trial and triumph that gives its audience a culturally-saturated look into the minds before the masters. It's a fire TV show, too.